…Rare mass protest against Robert Mugabe's 3-decade rule'
"Old clueless Mugabe must go."
"Where is our $15bn dollars?"
Demonstration organized by opposition leader Morgan Tsvangirai is biggest in years as Zimbabwe's economic problems worsen


Joice Mujuru, Zimbabwe's former vice-president, launched
a new party last month to challenge Robert Mugabe, promising
to revive the economy and repair strained relations with the west.
Police had initially banned Thursday's march before a court overturned the ban. The opposition leader, Morgan Tsvangirai, who shared power with Mugabe for five years before losing disputed elections in 2013, organist the march.
Women with children strapped to their backs joined marchers carrying placards demanding that Mugabe step down. He has been in power since independence from white minority rule in 1980.
Some marchers carried banners reading "Old clueless Mugabe must go". "Where is our $15bn dollars?" read one placard, in reference to recent statements by Mugabe that $15bn worth of diamonds had been looted in eastern Zimbabwe.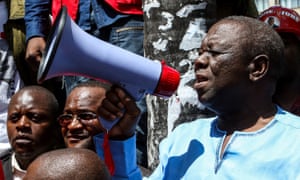 Another placard read "Where are our 2.2m jobs?" referring to Mugabe's 2013 election pledge to create jobs. Zimbabwe is battling a worsening economic decline, highlighted by company closures and growing unemployment.
Mugabe has previously said he wouldn't resign, adding that he would rule "until God says come".
Lets us know what you think of this article. Like? Dislike? Funny? Interesting? Cool?  Drop us a line in the comment box or join us on Facebook and twitter to help us give you a better reading experience