…hopefully he recovers and gets much needed therapy
Official statement national zoo (Santiago Metropolitan , Chile)
At About 11:30 hours of the day today, in the premises of the lions of the National Zoo, a male person, got on the roof of the enclosure, broke the fence, stripped in the inside and he came over to recklessly The animals in the place.
Due to this circumstance and to guard in the first place the life of this person we were forced to implement all our security protocols.
By this incomprehensible action became necessary eutanasiar to two of our three lions in the place, which is deeply painful for each of us and especially for their guardafaunas and every one of the officials of the zoo, who care for them day by day and the Elementary as part of their lives.
Despite the pain which led to this action, it was necessary to preserve the life of the individual, it was hardly possible was removed from the premises and taken to a clinic to receive the appropriate care, where it currently is.
At the moment we are waiting to know the evolution of the health of the person.
We want to clarify that the halls of our zoo are absolutely safe for our regular visitors and that, in cases like this, in which a person violates the security protocols of the enclosure, are absolutely out of the ordinary.
Lions killed after they maul man who stripped naked and entered den at Chile zoo in apparent suicide attempt.
Two lions were killed after they severely mauled a man who stripped naked and entered their enclosure in an apparent suicide attempt early Saturday, authorities said.
The man was taken to a nearby hospital for treatment and was said to be in grave condition.
Director Alejandra Montalba of Santiago's Metropolitan Zoo told local media the park was crowded with visitors at the time of the incident.
The 20-year-old man broke into the enclosure, took off his clothes and jumped into the middle, horrifying other visitors who witnessed the attack.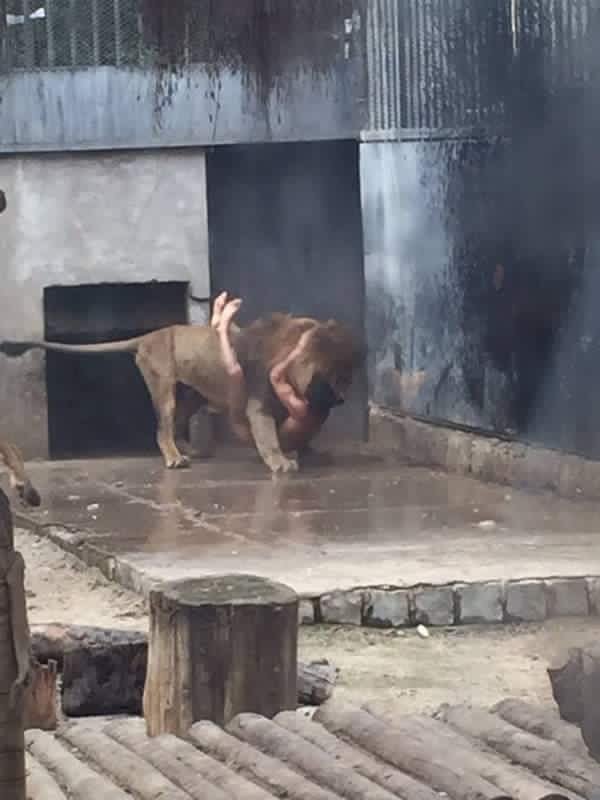 The intruder was mauled by the lions before they were shot, and was hospitalized in serious condition.
The Santiago Zoo said its facilities are safe, describing the incident as highly unusual and the result of a person violating security protocols.